BFI
As part of the Shakespeare400 season, the BFI, with support from the British Council, launched BFI Presents Shakespeare on Film, a programme that explored how filmmakers have adapted, been inspired by and interpreted Shakespeare's work for the big screen. It incorporated screenings and events at BFI Southbank (April-May 2016) and UK-wide, newly digitised content on BFI Player, new DVD/Blu-ray releases and film education activity.


Award-winning actor and writer, Ian McKellen, who spearheaded the project said:
"400 years on, Shakespeare's plays continue to dominate stages worldwide, mostly of course in translation, challenging actors, directors, designers and audiences. The BFI's "Shakespeare on Film" is more than just timely, it is a glimpse of the matchless collection of brilliant endeavour from world-beating Shakespeare experts like Laurence Olivier, Peter Brook and Kenneth Branagh whose films have popularised Shakespeare over the years. Their theatre-roots are evident. They have respect for the text and cut lines with regret. Other directors have successfully translated the stage plays for the screen, aiming, perhaps to make great cinema rather than great Shakespeare. Here, I relish Baz Luhrman's Romeo and Juliet; Julie Taymor's Titus Andronicus; Orson Welles' Chimes at Midnight, Kurosawa's Throne of Blood and Ran. And there are more. I will not be the only one to be grateful to the BFI for their initiative in this anniversary year."
---
Event highlights
Ian McKellen and Richard III (1995)
Ian McKellen traveled around the world to present and discuss Shakespeare on Film. Ian starred in and co-adapted Richard III (1995), directed and co-adapted by Richard Loncraine and co-starring Annette Bening, Maggie Smith, Jim Broadbent, Kristen Scott Thomas, Robert Downey Jr and Dominic West.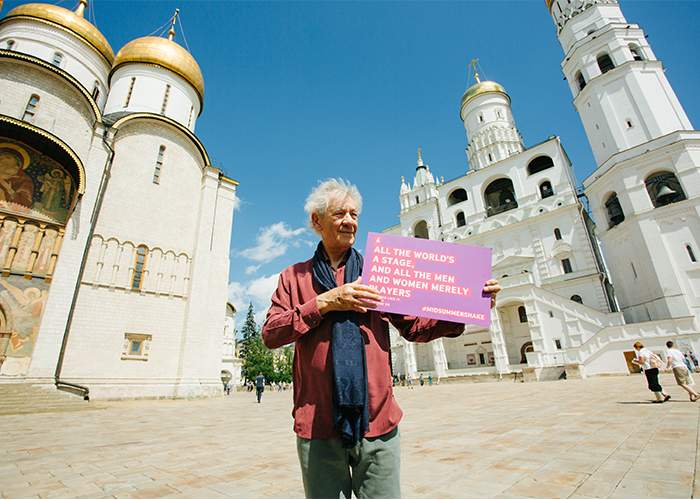 Sir Ian McKellen at the Midsummer Nights Festival in Moscow. Image credit: Valeriy Belboeev 

The film was simulcast, in partnership with Park Circus, across UK cinemas on 28 April 2016 with a special post-film on-stage discussion between Ian McKellen and Richard Loncraine live from BFI Southbank. Richard III was also screened at BFI Southbank, was part of the international touring programme and re-released by the BFI on Blu-ray.
---
Play On! Shakespeare in Silent Cinema
From King John in 1899, film adaptations of Shakespeare's plays proved popular with early filmmakers and audiences. By the end of the silent era, around 300 films had been produced. Play On! Shakespeare in Silent Cinema, is a feature-length celebration that draws together a selection of thrilling, dramatic, iconic and humorous scenes from two dozen different titles, many of which have been unseen for decades.


These treasures from the BFI National Archive have been newly digitised and are brought to life by the composers and musicians of Shakespeare's Globe Theatre.

---
Highlights from BFI Southbank
BFI Presents Shakespeare on Film launched in March with the premiere of Play On! Shakespeare in Silent Cinema with the score performed live by the Shakespeare's Globe musicians.
April saw classics, including Laurence Olivier's Hamlet (1948), Kenneth Branagh's Henry V (1989), Roman Polanski's Macbeth (1971) and Franco Zeffirelli's Romeo and Juliet (1968), brought to life with a new 4K restoration.


In May, Shakespeare Re-imagined explored how filmmakers have taken inspiration from Shakespeare's texts and re-interpreted them. Screenings included a newly re-mastered All Night Long (Basil Dearden, 1961) set in the London jazz world and inspired by Othello; a new restoration in 3D of George Sidney's musical Kiss Me Kate (1953) and Gil Younger's 10 Things I Hate About You (1999)  starring Heath Ledger – both based on The Taming of the Shrew; Gus Van Sant's My Own Private Idaho (1991) based on Henry IV parts 1 and 2 and Henry V and The Lion King (Roger Allers/Rob Minkoff, 1994) which gave younger audiences a route into Hamlet.

My Own Private Idaho (1991)
---
TV previews
BFI Southbank previewed the BBC's The Hollow Crown: The Wars of the Roses, Henry VI part 1 & 2 starring Tom Sturridge, Hugh Bonneville, Sophie Okonedo, Sally Hawkins, Michael Gambon and Benedict Cumberbatch, on March 

29 

 2016

with on-stage cast and crew interviews.

The BBC Arena Documentary 'All the World's a Screen: Shakespeare on Film', which looked at the complex history, artistic contradictions and cultural achievements of Shakespeare, as translated into moving image, was also previewed.
---
BFI Player
The BFI National Archive holds the world's greatest collection of moving image material relating to Shakespeare and thanks to National Lottery funding through the Unlocking Film Heritage project, many rare and exciting Shakespearean film and television titles – some unseen for decades – have been digitised and have been made available to audiences nationwide for viewing online, for the very first time, on BFI Player. 
For more information about BFI Player and all the other events that were held by the BFI, visit the related links below.
Related links